All Blogs
Recruitment Process
Best Tips for Reinventing Healthcare Staffing!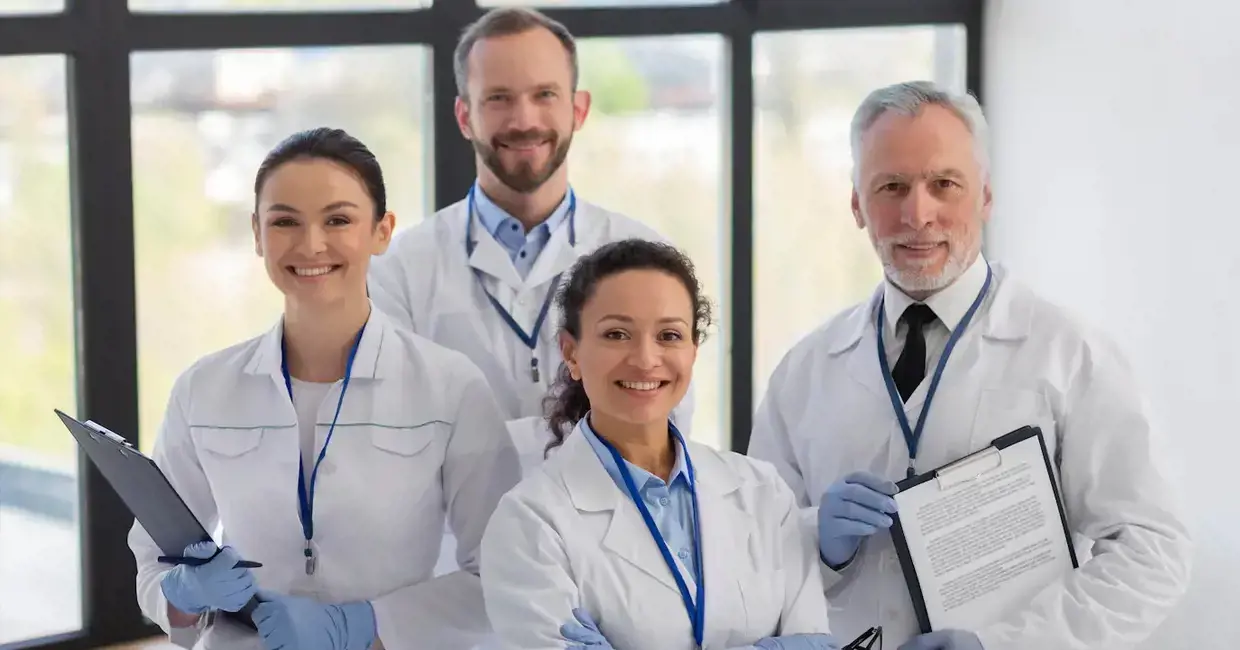 October 20,2022
Boost your medical recruitment efforts by brushing up on your hiring strategies!
One thing is sure: the healthcare sector has substantial skill gaps and workplace shortages that will probably only worsen. Shortages of doctors, nurses, and mid-level professionals are imminent. An innovative approach is needed to find the best applicants.
You may readily mention the difficulties in recruiting for the healthcare industry if you work as a medical recruiter or hiring manager. High turnover rates, a lack of readily available or acceptable talent, and a lengthy hiring process are definitely on your list. The need for qualified professionals is growing, making the healthcare industry a more competitive market.
It is the role of medical staffing services or recruiters to match qualified candidates with open positions due to the diversity of the healthcare industry. Recruiters look for healthcare specialists who fulfill the qualifications and experience requirements of hiring companies. You can develop your recruiting abilities and connect individuals with suitable opportunities by learning about healthcare recruitment, why it's crucial, and how to recruit successfully. In this post, we define healthcare recruitment, describe the work of healthcare recruiters, and provide six suggestions for attracting new talent to the sector.
The absence of qualified personnel affects the healthcare sector globally.
You can take the example of the nursing sector, where the American Nursing Association asked the government to declare the shortage of qualified nurses as a national crisis. The supply will never be able to catch up with the increasing demand for nurses, as according to the US Bureau of Labor Statistics there will be more than 203,200 openings for nurses by the end of 2030. When demand for such specialists suddenly increased, the pandemic worsened the current personnel shortage, and burnout was also at its highest.
In recent years, there have been significant changes in hiring. The healthcare sector is constantly looking for highly qualified people with compassion and the ability to assist those in need. Finding these people can be challenging at any time, but it seems more challenging during certain times. Many recruiters in the healthcare sector may become concerned about how they will locate qualified candidates as a result.
As a healthcare recruiter, you may take a few steps to help locate suitable candidates and make sure you are hiring them for your company. To resolve this issue, healthcare institutions must go through a transition stage; this can be accomplished by following the recommendations below.
6 Tips to Reinventing Healthcare Staffing
Although the healthcare sector is now experiencing a significant labor shortage, talent acquisition teams can take some measures to reduce the pressure. A new hiring strategy is required for the healthcare industry if businesses can access talent now and in the future. This article will guide how healthcare recruiters could re-evaluate their hiring procedure.
Strategic Sourcing of Talent

Gone are those days when post and pray was the best way to hire staff in the healthcare sector as we have moved to an era where options like medical staffing services have become common. Over the last few years, sourcing has entirely evolved; this is where strategic sourcing comes into the picture. For strategic sourcing, the use of cutting-edge technology and analysis of data becomes crucial. To begin on the right foot, you should find the total addressable market, and this should be the entire population of talent prospects within a particular region reasonably qualified for a specific requisition. This high-touch, strategic approach is quickly becoming the standard in the healthcare industry. Searching for talent is only one aspect of strategic sourcing. Creating interest in vacant positions and establishing partnerships are essential to turn candidates into applicants.
Talent Pipelining

This strategy restricts talent communities or pools to skilled and qualified applicants in the healthcare industry. Here, the talent pool is a kind of database that holds all the data on applicants who can start working right away, and talent communities are a kind of online community that can be used to forge close bonds with staff members. By choosing medical staffing services you may embrace both the talent pool and talent communities, and given the present landscape, talent communities will be priceless for any healthcare organization. To keep their organizations at the top of candidates' minds when they start searching for a career move, recruiters must routinely interact with the people in their community. Segment the members of your community based on their areas of interest to make the information you share more relevant and valuable.
Branding of Employment

The expectation of candidates in every industry has evolved; healthcare is no exception. Nowadays, it has become imperative for employers to align their employment brand with employee value propositions. Even the channels being used by your facility to showcase the employment brand are crucial. Your HR team should consider every possible platform for showing employment brands, and if they are incapable of doing so, then you must take help from a medical staffing company in India and overcome the lack of employment branding. Employers must update their employment branding strategy and routinely evaluate their employment brand and the channels through which it is presented to stand out from the competition and position themselves as an employer of choice.
Workforce Planning

Although workforce planning might not seem like a viable option right now, it can help you get ready for the future's next step. Trends like digitization can be identified with strategic workforce planning because they significantly impact hiring personnel in the healthcare sector. A medical staffing company in India can be helpful in this situation, but it should never be about headcount; instead, it should be about developing capabilities that will fit with the firm's value. It takes a distinct approach to develop workforce plans for nurses, doctors, or business support roles and a different methodology to hire and align against those objectives. To ensure that you appeal to all groups, you must modify your workforce plans and strategies based on role type.
Adopting Advanced Recruitment Technology

The quality and speed of recruitment can be improved with the aid of recruitment technologies. It can be challenging to imagine how to start on the proper foot, though, given how saturated the recruiting technology market is. To adopt recruitment technology seamlessly, healthcare professionals should first explore the internet for those platforms that align perfectly with their objectives while keeping the changes in the candidate journey in mind. And if you don't wish to deal directly with recruitment technology, you still have the option of embracing it by working with offshore medical staffing agencies. Before looking at other tech platforms, you must assess your present HR technology stack to ensure it complies with every step of your end-to-end hiring process and optimize it where necessary.
Leverage Data and Analytics

Most healthcare facilities are well-versed in dealing with data and analytics, but the talent acquisition team falls short of making the most of the available data and analytics to fill the void left by the pandemic. Metrics, if utilized well, can prove to be a magic wand for talent acquisition. But for using metrics, you should be specific about which metrics you need to track, and since offshore medical staffing agencies are well-versed in this, you can also opt for their professional services Remember that the choice should be made in light of the specific organizational needs, not what other talent teams monitor. If you treat data integrity seriously, your metrics will enable you to advance your human capital strategy.
Wrapping Up!
Due to the retirement of many senior healthcare professionals, healthcare firms must stay current with hiring trends and make the required changes to their staffing models to meet the demands of the new and emerging healthcare talent landscape. In addition to working with your internal recruiters to find candidates who fit the existing vacancies, medical staffing services can bring medical and non-medical talent from various sources.
If businesses want to hire successfully in the healthcare industry, executives need to know the benefits of the abovementioned suggestions. These suggestions can be included in a healthcare recruiting plan or by a healthcare staffing recruiter to produce a workforce with higher job satisfaction, fewer attrition rates, and improved ROI for your healthcare recruitment efforts.
Numerous additional organizations are looking to fill positions with highly qualified people. Setting a strategy and sticking to it can help you stand out and achieve your maximum potential. These recommendations can assist you in enhancing the efficacy of your healthcare recruiting efforts and perhaps even raising retention rates. A fantastic candidate experience will improve your hiring process.
How Will Collar Search Help You?
(Only We Know How to Choose the Ideal Person for the job!)
Collar Search has been helping healthcare facilities to keep their talent pool filled for more than a decade; therefore, we are more aware of the challenges and opportunities of the healthcare sector than anyone else. We offer end-to-end staffing solutions, which allow healthcare professionals to focus on healthcare services rather than worrying about talent acquisition.
The influx of COVID-19 cases has further intensified the already existing lack of talent in the healthcare facility, and this is why healthcare facilities have found relief in services offered by offshore medical staffing agencies like Collar Search. With Collar Search, you have to concentrate on making the most of the hired workforce while we care about how to make those deserving candidates reach the vacant positions in the healthcare facility.
Looking for the Best Employees? Leave it Up to Us to Get You the Right One!
About Company
"Collar Search is a leader in setting international offshore staffing and recruitment trends. We provide businesses with a wide choice of specialized techniques to improve their staff and handle any business difficulty. Our team is fully capable of assisting you in meeting particular workforce demands quickly and affordably. Our clients view us as the top choice for hiring talent due to our extensive experience and knowledge in the field of talent acquisition on a worldwide scale. We provide cutting-edge sourcing tactics, global operations, and competency models, topped with distinctive approaches to success measurement and business impact optimization."