All Blogs
Recruitment Recruitment Process Talent Acquisition
Bias in Reference Checks Suggests Need for an Alternative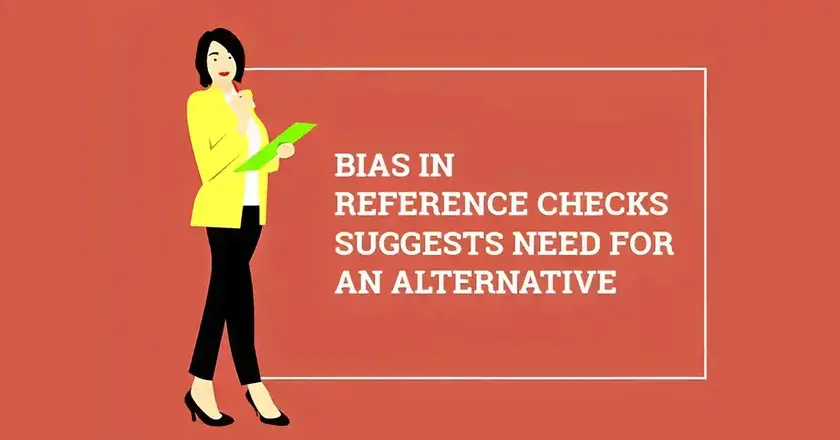 February 26,2018
No matter how much we like to believe that the process of reference checks has been unraveled over the years, it's true that every company stumbles upon wrong recruitment here and there. Employment reference and background check which are usually considered as the validation of one's character and work-ethics, are now stated as the weakest of all HR processes. There has been a bewildering decline in the number of authentic references over the years. Despite such facts almost all the organisations still use reference checks as a selection tool.
Now, the main question arises. Are these reference checks even valid? Don't most of the people give names of their friends and family who are (obviously!) biased towards the candidate? Then what is the way to deal with such problem which is prevalent in all human resources department irrespective of the nature of the company.
Research confirms the trouble with reference checks
A 2016 research by Nature Geoscience highlights the gender bias established in recommendations. It showed how the male researchers were subjected to get more positive reference than their female counterpart. Similar instances have been registered for candidates from minority community. Besides that, some candidates can source impressive references because of their privileged background. These instances are common where people actually exploit their position in order to get a job against a best candidate. When the referral is in a powerful position then there is nothing which a candidate with less influential background can do to get noticed. Not only you are losing your best candidate because of the fault in the system. You might actually end up with an employee who is not worthy of the position.
Recommendation doesn't ensure performance
Recommendations are usually done to assure that your candidate can actually do the job. They can also contribute to the growth and development of your business. But there is no way that a reference check can ensure the performance of the candidate. The biases of the recommendation is a hurdle in impartial recruitment. You cannot measure the reliability of an individual based on his/her referee's statement.
While recruiting a candidate you need to make sure that s/he has worked in the same job and industry in past. You might also prefer someone who comes from a similar work culture as yours. In this way you can ensure best future behaviour by their past behaviour understanding. And none of is can be confirmed by a reference.
Available alternatives
When there is such kind of loophole in the process then it is high time we look for alternatives. Since we use reference as a testimony for the candidate's ability to do the job, then any issues with this process shows the sign for an alternative. Candidate can be judged upon different criterias to showcase their capabilities as a professional. We can move away from traditional methods of recruitment to look for fresh ways to assess an individual's potential.
Afterword
Reference checks have become outdated in a progressive recruitment industry. There is much more about an individual which matters than just a validation from an employer or co-worker. His/her work-ethics, behaviour, professionalism and attitude towards the job is more important than everything else. These qualities cannot be assessed by a reference. So it's time that we move ahead and pay attention at other ways of evaluation of a prospective employee.