All Blogs
Health Care Staffing
Do Small Scale Medical Institutions Benefit From a Healthcare RPO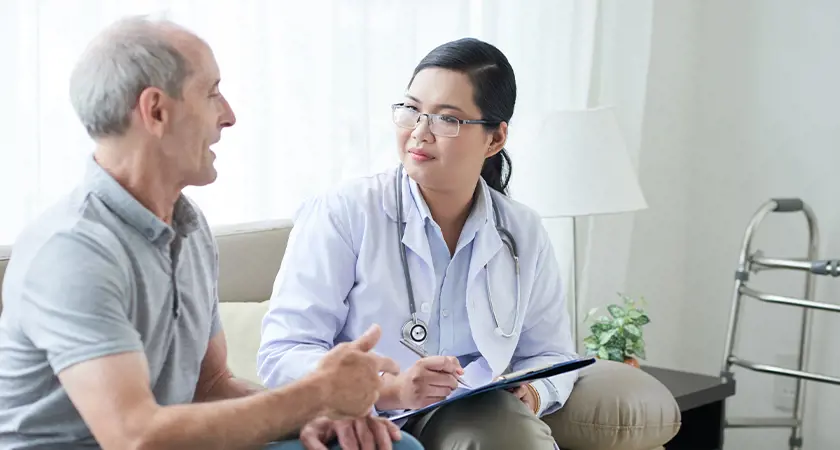 September 22,2023
Dedicated professionals oversee delivering quality patient care within the intricate healthcare landscape. Regardless of the institution's size, the demand for skilled, compassionate medical staff remains unyielding.
While Healthcare Recruitment Process Outsourcing (RPO) is often associated with strategic approaches tailored for more extensive medical facilities, its advantages extend well beyond the domain of corporate giants. In this blog, we delve into Healthcare Staffing Services, shedding light on how small-scale organizations can harness their potential to address staffing challenges and enhance patient care quality.
Staffing Challenges in Small-Scale Healthcare Institutions
Even though medical institutions of all sizes share a commitment to providing excellent patient care, small healthcare facilities have unique staffing issues that might impair the smooth operation of their business. These organizations need to work on limitations such as constrained funds, financial considerations, and fierce rivalry for the services of highly qualified people. The misconception that RPO services are primarily tailored for larger enterprises inadvertently leads smaller facilities to overlook the untapped potential and transformative benefits that RPO can offer.
How Small-Scale Institutions Can Benefit From Healthcare RPO
The benefits of Healthcare RPO Services are significant for small medical institutions and large organizations. These services provide customized solutions to address the specific challenges fronted by smaller healthcare organizations:
1. Time & Resource Savings
Small-scale medical facilities often need help to juggle multiple tasks within their resource constraints. The hiring process, in particular, can be highly time- and resource-intensive. Healthcare Staffing Services come to their aid by streamlining the sourcing, screening, and onboarding processes, alleviating this burden and enabling these institutions to optimize their resources and save valuable time.
2. Expertise in Compliance
A vital aspect of medical industry staffing involves navigating the complicated landscape of healthcare compliance and regulations. The complex web of legal obligations can appear daunting to smaller institutions. Healthcare RPO companies excel in adhering to compliance regulations, ensuring that modest institutions fully comply with the law and avoid operational disruptions.
3. Cost-effective Staffing Solutions
Economic constraints can pose significant challenges for small medical organizations in attracting and retaining top talent. Healthcare Staffing Services leverages its network to connect businesses with cost-effective professional solutions that address organizational budget constraints and contribute to the desired quality of care.
4. Focus on Patient Care
The commitment of any medical facility to delivering exceptional patient care forms its cornerstone. However, the hiring process can consume valuable time and resources, diverting attention from this primary objective. Healthcare RPO allows smaller organizations to reallocate their focus to delivering excellent patient care, relieving them of the intricacies of recruitment.
5. Adaptation to Scalable Requirements
Smaller organizations may experience shifts in staffing requirements, influenced by factors such as evolving patient demographics or the introduction of specialized services. Healthcare Staffing Services are well-prepared to respond to these dynamic workforce needs swiftly, ensuring ongoing alignment with the organization's evolving requirements.
6. Access to a Network of Talent
One of Healthcare RPO's foremost advantages is its access to an expansive network of healthcare professionals. This invaluable resource enables smaller medical institutions to tap into a talent pool comprising qualified and specialized healthcare workers. It facilitates connections with professionals possessing the precise skills and expertise necessary to meet the specific requirements of these institutions.
Collar Search: We Help Institutions of All Sizes
As a renowned provider of Healthcare Staffing Services, Collar Search exemplifies the profound advantages of Healthcare RPO for organizations, regardless of their size. Our extensive expertise extends to comprehending the unique challenges faced by small medical institutions, inspiring us to craft tailored solutions to address their specific requirements.
At Collar Search, we are firmly committed to bridging the staffing gap across the healthcare landscape, and this commitment extends to smaller institutions. We provide them with invaluable resources and industry-specific insights to navigate the complex domain of healthcare recruitment successfully.
Smaller organizations partnering with Collar Search gain access to a pool of highly qualified individuals, enabling them to expedite their hiring processes while maintaining compliance and upholding the highest quality standards. Collar Search empowers institutions of all sizes to secure the talented healthcare professionals they need for sustained growth and excellence in patient care.
Frequently Asked Questions