All Blogs
Offshore Recruitment Services Recruitment Process Outsourcing
DON'T OVERLOOK CANDIDATE'S EXPERIENCE: SIGNIFICANCE AND HELPFUL TIPS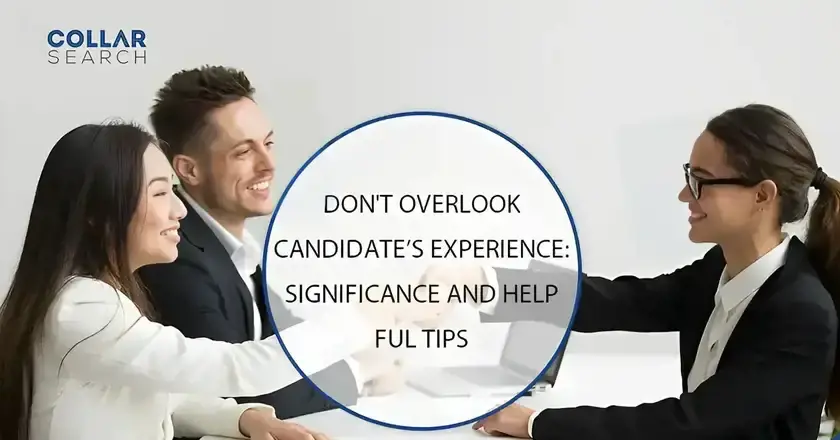 September 11,2019
The competition to find and hire the most talented person from a plethora of candidates passing from universities every year is a daunting task. Every organization is ensuring that their recruitment process is strategized into a more effective and efficient process. The race to attract the most proficient candidate is getting aggressively competitive with the passing year and those leveraging from the right balance of human elements and technology to create a potent recruitment process are getting ahead.
Yes, for long have organizations overlooked the human factor in their recruitment process, making it banal and uninteresting. A significant but majorly unestimated part that ensures positive employer branding, in the long run, is, candidate interviewing and onboarding experience.
Organizations think that if they have devised a competent interview and hiring process, their goal of "successful recruitment" is accomplished, but such is not the case. Your procedure is incomplete till you have a policy that will make sure that the candidate, despite the outcome of the interview, has had an interactive experience, leaving the door open for any future possibilities.
Is the reason not strong enough for you to invest your time and energy in it?
Allow us to elaborate as to why ensuring a positive candidate experience should be a top priority in your recruitment checklist?
Why the candidate's experience matters?
CandE Research report states that 62% of candidates who have had a positive experience will apply again, and 78% will refer the organization to someone in the future.
But if met with a poor or negative overall experience, prospective candidates might bash the organization and warn fellows against applying for it on social media. Employees that have long been experiencing an environment that lacks motivation, recognition, will take their loyalty somewhere they are appreciated and feel valued.
Also, think about it- will you let a talented prospective employee and hardworking employers let go because, despite your best efforts in providing an efficient recruitment process, you failed at leaving a good impression of the organization and its culture. Seems like a missed opportunity that could have been taken control of and resolved at the right time, isn't it?
Are you wondering where does the organization's go wrong?
When reporting the negative reviews, a significant percentage of candidates have stated that most of the organizations lack the basics of effective communication. 73% candidates who sat for an interview reported no communication, phone or email was made to the employee after they have applied and 22% reported to have been at the receiving end of poor and inconsistent communication, which made them not want to go ahead with the process.
So what should be done to improve the candidate (interviewee and onboarded) experience?
Good communication makes for an integral part of corroborating positive candidate experience. Ensure transparency with clear, consistent, and honest communication. Be grateful for the candidate's time and interest. Providing the prospective candidate with a good experience will strengthen their engagement even before joining the firm, which will subsequently reflect on the employee performance and retention.
While it is understandable that you do not want to lose meritorious candidates, try not to sell yourself in that attempt. Keep the flow of the interview as natural and as pleasing as possible. A value-based conversation will help you in the future.
To provide the new hire with a positive experience, make the environment less stressful, and deliver a friendly and two-way orientation process. Employees first-day experience is significant in their decision of whether or not should they engage in this working environment.
Strategizing a recruitment and onboarding process this meticulous requires extensive knowledge and experience in staying abreast and implementing the trending ways of enhancing a candidate's experience, which not every inhouse team is armored with.
To think that they can be trained for that would be a wastage of time, money, and energy. Their potential can be utilized in a more significant task, while a Recruitment Process Outsourcing company in India like Collar Search will be a more suitable choice to manage it coherently.
Collar Search's team of experienced human resource professionals are adept at devising, delivering and streamlining such a system that will make sure that your employer brand score escalates further with every interview session. With the aim to give interviewee as well as the new recruits a thriving environment to learn and grow in, Collar Search's HR managers adhere to global recruitment standards that do not compromise with the quality of the hire and how they are made to feel safe, secure and comfortable in the organization.
Hire dedicated Collar Search HR managers today!