All Blogs
Recruitment Process
Executive Recruitment Tips For Businesses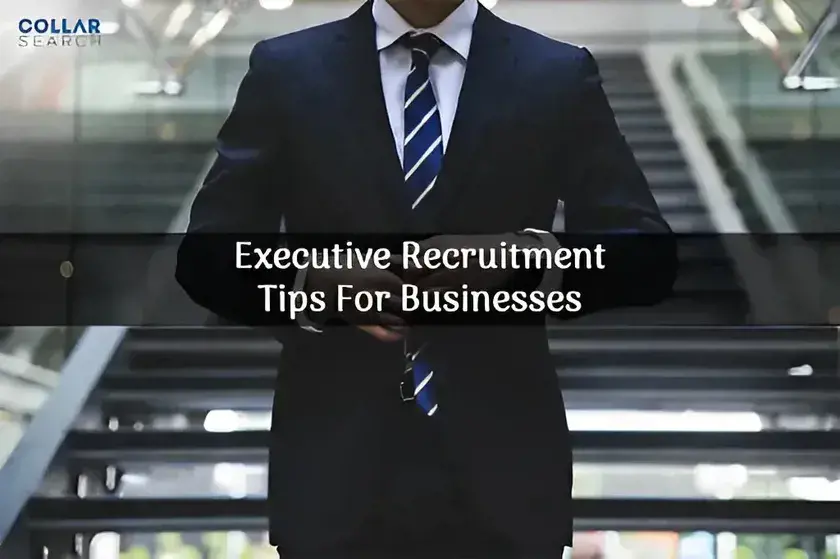 September 21,2019
Are you strategizing to hire for a senior managerial position?
A vice president for your operation department, maybe!
What is executive recruitment?
Devising and executing a recruitment process for filling up a senior position can be a strenuous task. You can not have the same approach you had for freshers or mid-level employees. The requirements are different, and hence, a customized plan of action is required to make sure that you only hire the stream of the crop fro this critical position.
Finding, screening and hiring for such senior position is a time and resource extensive process, which is why an increasing number of organization, big or small prefer consulting human resource outsourcing companies like Collar Search that have a dedicated team of "headhunters." They are trained and qualified to develop effective strategies to attract, engage, and find the most talented candidate for the senior position.
Understanding the criticalities of these designations, Collar Search's team goes beyond implementing the traditional sourcing and hiring methods. We make use of global industrial recruitment standards to structure a recruitment plan that works best for your budget. With the aim to find the exact candidate match for the open position, our team for recruiters not just engages with the active candidates but also taps on the passive as well.
Why is it time-consuming?
Unlike recruitment for other levels, which can be done passively, you need a dedicated team on their toes 24/7 for attracting, recruiting, and hiring for executive positions. The cost of wrong hiring at such a significant place can be detrimental to the organization and would go beyond wastage of money. Turnover, because of problems at such a senior position will have an adverse impact on the employee morale and overall productivity of the organization.
Rushing into hiring for a managerial position, which will eventually lead to bad hiring has the potential to tarnish your business's reputation, shadowing its future. You are hiring for the leaders whose business decisions will steer the business ahead or will be responsible for its doom. The process needs to be prioritized with maximum attention to details.
What are the challenges recruiter face in executive hiring?
What calls for a different and more specialized approach for C suite hiring are the challenges, which, unlike the mainstream hiring, are relatively extensive.
THE GROWING COMPETITION:
Recruiters have a tough time finding the right candidates for starting positions, because of the intense competition; imagine the struggle for senior positions? Adding to the aggressively growing competition is the advantage that people holding these prominent positions have, which is that they are always in demand and can leave any organization, as and when they want.
PASSIVE CANDIDATES:
Considering that the top executives are in -demand around the year, it is no surprise that most of them will be employed and are not actively looking for a job. But this doesn't mean they will not entertain the possibility of being approached for a more lucrative offer. A survey conducted by experteer career services found out that 97% of the top executive employees want to be found or approached for relevant vacancies.
CULTURAL FIT:
The person holding such an important position should be able to adapt to the culture of the organization efficiently. Not being able to integrate them properly into the system can lead to quitting or firing, repercussions of which will be severe.
PROCESS:
The organization considers hiring for executive level as a more of a replacement led activity when a robust, sustained talent management strategy should be effectively executed. This negligence cost them a fortune in the long run with an inept, under qualified candidates that will hamper business's growth.
How to ensure successful executive hiring?
CREATE A DEDICATED TEAM:
The first and foremost thing to sort is creating a recruitment team dedicated to executive hiring; sufficiently educate and train them periodically with the changing landscape for C-suite recruitment. This will lead to significant investment of time, money, and energy, which can be otherwise utilized in focusing on goals and business.
A practical choice for the long run would be hiring human resource outsourcing companies with a dedicated team of headhunters for prompt qualitative hiring in a set budget.
FOCUS ON CANDIDATE EXPERIENCE:
The position at which they are has had them hear and see everything that a recruiter could possibly pitch. You need to make sure that you provide them with a unique candidate experience. Make them feel valued and go the extra mile if you, have to. A face to face time interaction with one-up your recruitment efforts. Don't be intimidated or act out of line; if they are choosy; they have earned the right to be. Have patience and respect their hesitation.
REFERRALS:
Reach out to the leaders in the company and ask for references. Leverage social media connections (especially LinkedIn), personal contacts, including the entire organization in your search for the most suitable executive.
LOOK FOR THEIR DRIVE:
Considering the position, they are holding; if what drives them is money, then we would suggest you keep looking. Get to know the candidate better and be more subtle about asking them such questions, because being direct would give you a spoon-fed answer.
You want a person who is driven by impact and performance to hold such a significant position.