All Blogs
Recruitment Process
Four Strategies for Building and Maintaining Resilient Healthcare Teams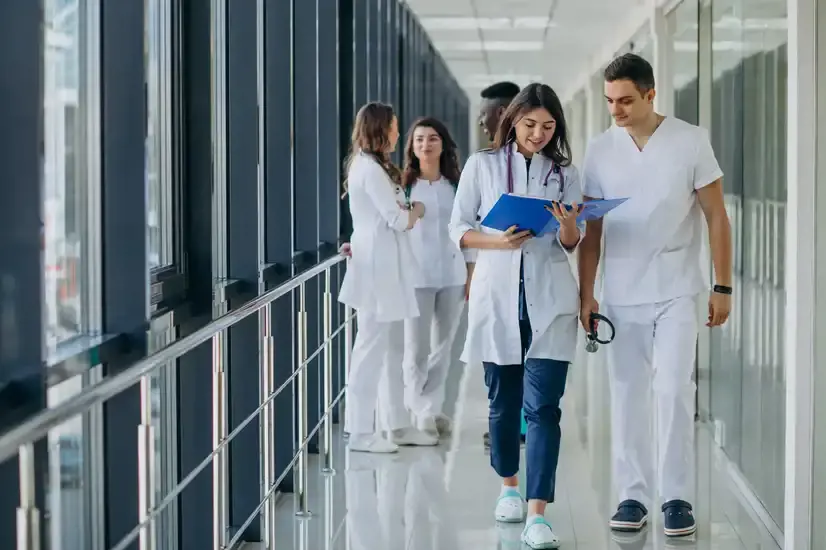 November 07,2021
Healthcare and social care sector is one of the toughest sectors to work in as professionals often work under high-pressure environments due to a multitude of reasons. Despite these, not only do they need to always be on their toes to serve the community but also maintain calm, composure, diligence, and resilience as they do their jobs.
The recent corona virus pandemic has shown the world the value of the physical and mental wellness of all, especially those on whom people rely the most in such difficult times, the essential health care workers. During the pandemic, healthcare workers the world over experienced a higher than ever rate of stress, burnout, and breakdowns having worked under immense pressures at the workplace as well as homes. Even typically resilient workers faced exhaustion on the physical, emotional, mental levels.
Building a resilient team of healthcare workers that meet the tough challenge head-on is incredibly important in the healthcare industry. It's also essential for the smooth running of community and healthcare service in healthcare institutions as a dip in the physical and mental wellness of its workers frequently leads to issues such as increased demand on services, and high employee turnover rates. Moreover, the situation of another crisis such as the recent corona virus pandemic could lead the industry to a crisis.
How to keep the wheel turning and keep teams going is a worrying cause for leaders in the industry and beyond. As a reputed Healthcare Recruiting Firm India-based, we understand the importance of building and maintaining resilient healthcare teams, therefore we bring out four strategies that can help with the task. Let's look at them –
Hire workers that have a Track Record of Resiliency
Every hiring that an organization does is a risk taken. There is always the risk of making a bad hire and the only and best way to mitigate it is by selecting somebody that fits all your requirements with proven experience as closely as possible. If you wish to build a resilient team, the best way of ensuring that is by selecting candidates that have a proven track record of quality. Therefore, when hiring for your healthcare organization, in addition to all the other aptitude parameters it is important to recognize the resiliency of candidates It's the best way of ensuring the decision you are making is not a chance, but a reasonably surer way of ensuring something that's high on your priority.
Healthcare sector jobs are prone to high employee turnovers, perhaps now more so due to the state of the current health care systems that are increasingly overworked and over pressured. In such circumstances, a resilient hire is likely to stay committed to their work and your organization for long.
Provide Comprehensive Health and Wellness Programs
Simply hiring a resilient workforce does not ensure the goal we are trying to achieve here. It is incredibly important to ensure and encourage the wellness of your employees. Workers subject to high pressure and high-performance standards are often prone to emotional and mental health issues such as anxiety, depression, burnouts, and even breakdowns.
Therefore, educating employees and providing them with information, support, and access to help is a task every organization should do. This can be done by providing comprehensive health wellness programs they can benefit from. Along with this, access to community resources that they can avail themselves of independently can be provided. These can be built in consultation with workers, as employers, you could benefit from listening to what your workers think would be helpful for them.
Balance Community and Worker Needs
The healthcare industry is driven by the aim of providing the best possible care to the community via their services. While serving the community, it is also important to balance it with the needs of the workers. It is not ideal to set unrealistic expectations, it is definitely practically not possible to have workers work for long hours, do large amounts of work or work overtime and conform to the expectations. Therefore, it is important to balance serving the community with workers' needs to maintain a healthy and resilient workforce.
Create a Healthy Work Culture
Making resilient hires, or providing them access to health and wellness activities and programs is not sufficient. These actions mean nothing and may even prove futile if workers do not have a healthy work culture that is supportive of them and their needs. Therefore it is an immense responsibility on the part of leaders and employers to create a positive, more humane work environment.
Here are two pillars to maintaining and sustaining a healthy resilient workforce – providing them with the healthy work culture and the necessary aid and support they may need when suffering from any issue. Workers should be regularly provided with the opportunity to engage in wellness programs they could benefit from. The staff should be given a workplace that is free of judgment of anyone trying to cope or shaming in any way when symptoms of burnout occur in someone. The culture should not place undue pressure on staff. Nor should yielding to pressure when a burnout or breaking point finally occurs should not be seen as a sign of weakness.
How can Collar Search help
As a premium Healthcare Recruitment Services Agency at Collar Search we make diligent efforts in filling the recruitment funnel for our clients with not only the most qualified but best-fit candidates suitable for them. We pay the highest regard to quality and therefore ensure careful attention to it in our selection criteria so that you achieve your dream team with no compromise on qualification, experience, and resilience – all things essential for a solid team.
If you are looking for a Healthcare Recruiting Firm India-based for your recruitment needs, get in touch with us and let us get you the best for your firm. Know about the comprehensive services we offer here.