All Blogs
Offshore IT Staffing
How to Build Your Own Remote Team with Offshore IT Staffing?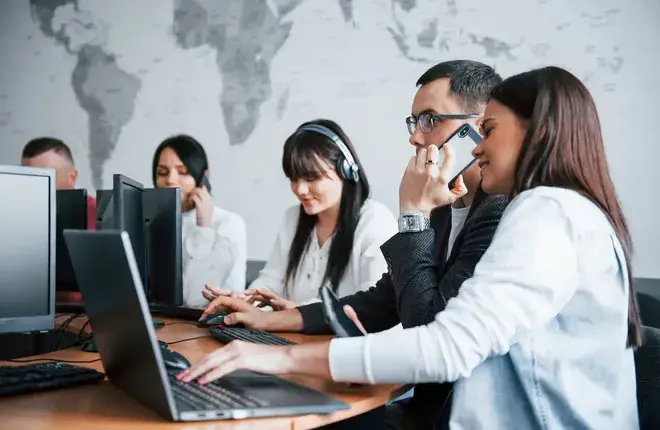 January 15,2022
Gone are those days when working with a remote team was considered just as another fad as nowadays, it has become a way to future-proof a company while making it more effective in the present. Because of such a change in perception and working culture, 16% of companies globally have shifted to a completely remote working model.
Earlier, technological limitations and limited awareness thwarted companies from using remote teams. Still, with the influx of technical solutions and inundation of information on the internet, companies are accepting remote teams with alacrity. This is the main reason why 18% of the global workforce works remotely on a full-time basis.
But if you haven't mastered the art of building your remote team with offshore IT staffing then things can quickly spiral out of control, and you should be wary of such disasters in a firm as they can catapult a series of mistakes.
If you want to build a successful remote team with offshore IT staffing, then here are the best practices to consider.
Build Your Own Remote Team with Offshore IT Staffing
Recruit Carefully
Hiring needs to be done with caution is a no-brainer for almost all the organizations out there. Still, when it comes down to assembling a remote team, the requirement of carrying out the recruitment process reaches a much higher level.
Since the off-shore team won't be working under any supervision, they need to be more self-sufficient, and this is why recruitment for a remote team can break or make your goal of harnessing the benefits of a remotely working team.
Some basic things to look for while working with RPO company India and hiring suitable candidates are quick response time, excellent communication, and expertise in their field. Without these basic skills, the remote team will go haywire.
Create a Structure for Your Remote Team
When it comes to remote working, every company comes up with its tailor-made approach. Some companies prefer going completely remote; some opt for a remote team, while others consider remotely working individuals the best option.
Whether you are a new company working with an RPO company in India or looking to turn remote, you must decide which method of turning remote would be better for you. There is nothing like the best method as it all depends on your own specific need.
But in many cases, the decision to choose a specific method will be beyond your control. Many businesses faced such a situation during the proliferation of COVID-19 cases. In any case, coming up with the proper method instead of just following the herd is a better decision, and you should decide on it way before you begin your hunt for choosing RPO service India.
Establish Clear Expectations and Guidelines
The only way you can keep the remote team accountable and productive is to set clear goals, guidelines, and expectations for them. Here are a couple of ways to set norms and expectations for the off-site team;
The team should fix online working hours
Set individual and team objectives
Decide a point of contact for specific projects
Build a team calendar to keep up with progress, updates, and deadlines
Decide the norms of the company applicable on the remote team
Depending on the nature of the job, there might be a wide array of ways to establish norms and expectations for the off-site team. Ensure that all these norms and expectations are communicated to the remote team; otherwise, things can spiral out of control, and the remote team won't be able to stay on track of productivity.
Establish Trustworthy Communication Channels
Communication is the key to success in any firm, but it becomes more important while working with a remote team as they are not present in front of your eyes, and there is no way you can call them in the meeting room for a discussion.
But thanks to the digital era that has made communication more accessible, regardless of the location of the business team. Here are some ways to harness the digital power for building trustworthy communication channels while thriving on RPO service India;
The remote team should be allowed to use an internal direct messenger for direct communication.
When it comes to comments and inquiries related to a specific project, the company should ask the remote team to use the project management system.
In case of official requests, queries, or approvals, the remote team should rely on the most common business channel; emails.
Provide all the needed tools to the team
The type of tools used by the remote team can make or break your dream of making a remote workforce successful. On the departmental or individual level, you must provide the remote team with basic tools like a messenger and project management system. But there are other tools also necessary for specific individuals in the team. For example, if you have a remote team of graphic designers, you might need a group editing platform. Make a list of the tools that your remote team might need and try to equip the team with all the necessary tools; otherwise, they will not be able to work at their peak efficiency.
Wrapping Up
We live in a digital era, and the influx of technological solutions has completely changed how the business team works. Even remote teams are a result of technological progress. But just planning to turn a team remote is not enough as you have to make sure you are building the right remote team. It might sound like an arduous task, but it can be made easy by choosing a reliable RPO company like Collar Search They know every step involved in building an outstanding remote team that can be held accountable and can stay productive.