All Blogs
Recruitment Process
Leveraging Your Professional Networking Strategy in 4 Clear Steps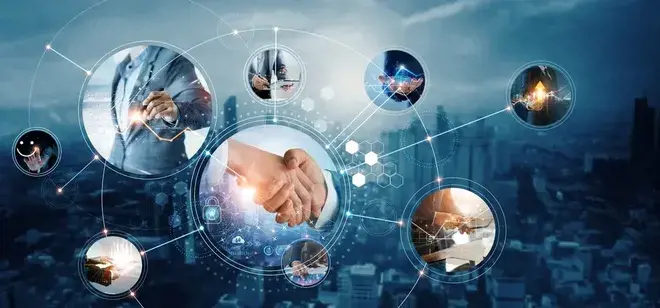 November 25,2021
For the growth and success of your business in the long term, strategic networking is a must. Whether you are interested in scoring on business leads, meeting professionals and talented individuals, or aiming for corporate leadership in the field, networking is the key that can help you unlock many doors and lead you to amazing opportunities. There are endless reasons why you should be investing your time and effort in leveraging your professional networking And so, we bring you how to do it in 4 clear steps for a successful networking journey –
Sign up for conferences or events
To engage in professional networking, you should know where to put your efforts to get the best results. What are some of the best places to network is this a valuable question in this regard? Conferences, business events, meetups, and career fairs, are conventional yet by far the best places to meet and network among a community of professionals
These are places for valuable information for you – they can get you leads, industry insights, best practices, innovative ideas, all the latest buzz in your field. If you are looking to connect with like-minded people from your industry and field, you should be heading to industry-specific conferences and events. If you are looking for young talent for your IT organization's talent pool, ask any IT Recruitment Services Agency, they would direct you to one of the same places. If you go for IT Recruitment Outsourcing with them, you'd even find them there.
Conferences, meetups, events are great opportunities to engage with peers, socialize with industry professionals and leaders, discover new opportunities, young talent, and build professional relationships that can benefit you and your organization in the long run. They should definitely be on your hit list.
Take advantage of what social media has to offer
Far and beyond the physical world, social media opens up a world full of networking opportunities. It is great to be on the internet from a business standpoint and networking too, and you should definitely be taking advantage of what this wonderful platform has to offer.
Social media networking sites or social media as it's known in short is all about networking. The only thing you need to do is make a start and stay consistent and active in your endeavor. You can easily find groups of social media, a community of people belonging to a field of expertise or interest, engage with them, and form professional connections. It's also a great space for learning, asking questions, solving problems, sharing stories, and generating ideas. You can take part in virtual meetups. Physical and real-world meetups are also common in such communities so you can meet people in person as well. Besides, there are a ton of things you can do to build and expand your network by leveraging the power of social media. Spark conversations with your social media posts, take part in conversations on online discussion forums or your other people's posts, ask questions, engage in debates, use trending hashtags, even start your own hashtags! Opportunities for networking and building connections are endless here.
Always Follow-Up
Connecting once, and never following up – Have you been making this mistake? Not following up on your professional connections is one of the most common mistakes that many professionals make. Once you connect, a professional relationship or even potential one needs to build upon. It's okay to feel uncomfortable or reluctant but it's crucial to get past that as it could come out as a relationship of good value to you. Therefore it is super important to follow up post that initial contact.
A good way of doing this is by getting in touch when an opportunity arises so that it doesn't feel forced. It could be on social media as well. Don't shy away from reaching out to your contact even if you are making the contact, over a phone call, via email, with a simple wish or maybe a relevant article they might find useful or something of their interest. Start a conversation and keep it alive, you can continue to learn more about them or tell something about yourself. Who knows you might just discover your roles align and that your networking relationship might be mutually beneficial for the both of you.
Nurture Your Relationships
Just like any other relationship, networking and professional relationships need nurturing. It's not always about (and surely does not have to be about) reaching out when a favor is needed. Whether or not you need something, your professional network should be nurtured, built, and strengthened all the same. It's good to stay in touch, even special occasion wishes, emails, and connecting on social media counts. Normal selfless conversations with no agenda or interest are great and highly respected. Helping people in the community rise in simple ways such as showing encouragement or support on social media, endorsement of skills, sharing leads or resumes and contacts if they need can go a long way in building strong mutual relationships. These are simple acts of kindness you should not shy away from indulging in.
How can Collar Search help?
As a reputable IT Recruitment Services Agency practicing in the industry for years, we know the immense importance of professional networking. It is at the core of the gamut of services we offer as an IT Recruitment Outsourcing and HR outsourcing firm. If you are looking to improve the recruitment of your IT firm, you can place your trust in us. We have an experienced team of expert offshore recruiters who will cater to all your needs, we promise to deliver the best results for your firm leveraging our wide professional network.
To give your recruitment efforts a boost with strategic recruitment and timeline management, reach out to us. Get in touch with us here