All Blogs
HR HR Outsourcing Life @ Collar Search Recruitment Talent Acquisition
Perks & benefits your prospective employees want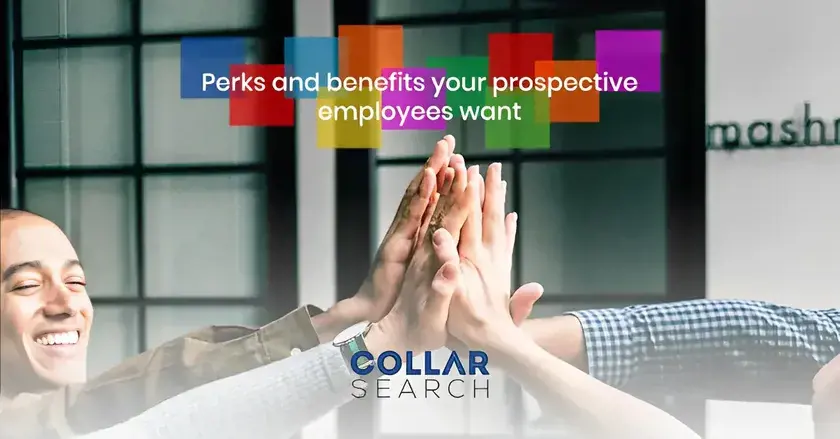 October 03,2018
Employee perks and benefits were earlier an organization's way of having a competitive edge over others in an industry, but now it has become a tool, essential for hiring as well as engaging and retaining talented employees.
No longer jobs are about pay scale, and it is certainly not the only criterion for the job seekers to apply for the position. They are smart enough to gather details about the organization they are applying for like work culture, perks, benefits, etc.
Of all the factors that make job seekers more likely to apply in an organization such as salary, commute time, location, reviews, work-perks matter the most. Companies offering attractive benefits and perks attract a larger pool of talent . If you are wondering that despite providing an attractive pay scale a talented candidate rejected it, then it's time you look into the benefits that you are planning to offer to your prospective employees.
Every day you must be reading in the news about leading global organizations adding unique benefits, catering to employees demands. But your budget doesn't have to a hindrance in offering employee friendly perks. How invigorating and motivating work culture you can create for the pool of talent in the organization to nurture and grow ultimately decides your organization's success. An essential aspect of work-culture is what benefits and perks employee gets. The employee feels valued, they are driven by the motivation to work better and hence workforce efficiency is enhanced. Take, for instance, an organization that provides employees with healthcare benefits knows it will impact them in long-run. Healthier employees means reduce healthcare cost, fewer sick days, more contribution and value to the organization's objective. Thereby, benefits and perks are an essential aspect of the organization's productivity.
Let us have a look at the two most in-demand employee benefits and perks that job seekers want in 2018
Complementary professional development:
An employee needs to develop, for which they need to identify their problem area, work on them and simultaneously stay abreast with the latest development in their field. Professional development opportunities will provide employees with the zeal to learn, and they will be able to figure out how they are supposed to proceed further.
The ease of being able to balance work-life:
A full-time employee spends considerably more time at the office than they spend with their family and loved ones. No matter how hip and employee friendly your work culture is, employees these days have made it abundantly clear that they want their work and private life to be perfectly balanced. Incorporating work from home daycare, tax preparation service, flex-timing, providing concierge services. Organization addressing these concerns reinforce their employee motivation.
Organizations need to look beyond financial and health benefits, which have become a standard for the workplace. To understand this, the HR professionals need to have a thorough understanding of the diversity in the population, mainly age group. They must be able to chalk-out what, which generation; from the traditionalist to Gen Z, finds a valuable asset.

The HR and team need to be clever in designing the advertisement as well as the employee's compensation statement.

While putting up the information on the website's career portal, try to be more specific and put information in the filters, for facilitating easy navigation. The team can also make use of visual tools to let the job seekers know how the benefits are allocated.

Brainstorm and come up with unique benefits propositions that would immediately click with the job seekers. Highlight these benefits in all your job advertisements to attract a broader base of the target audience.
Remember, employees, make organizations and every organization must listen to what their employees have to say and implement it, per feasibility.