All Blogs
HR News Onboarding Process Recruitment Process Recruitment Process Outsourcing Talent Acquisition
SMALL BUSINESS: DOS AND DON'TS OF HIRING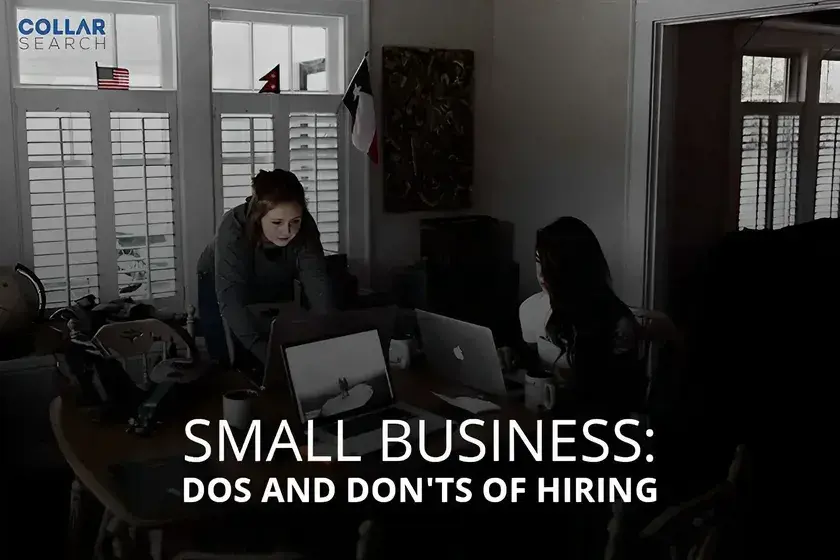 February 27,2019
While employees make an organization, the value of every employee's contribution is more evident in a small business where each employee puts on different hats and hustles between meeting the deadline and ensuring productivity, simultaneously maintaining the ratio of cost and internal resources investment.
Employees play a pivotal role in deciding the success or failure of a small business which is why it is essential that the hiring process is meticulously devised and carried out so that there is no wastage of time and money.
Keeping this into consideration, today we are going to discuss some dos and don'ts that you should take care of when looking for the ideal candidate. After all, in a small business, a minuscule contribution by an executive can scale your business's revenue generation or ruin your annual turnover.
DO :
THINK THE REQUISITES FOR THE POSITION THOROUGHLY:
You might think creating a job description is a piece o cake, but let me tell you for a small business, it is not just about creating a job description, it is about thinking profoundly as to what your businesses requirements are and what skill set will help you achieve your long term or immediate goals. Go for temporary hiring, if you think the position has a limited role or you can hire a candidate on a contractual basis to get your specific task done.
PREFER TALENT OVER EXPERIENCE:
A person can do the same thing for ten years and yet not be as competent as the one who has the talent to look at problems with a different angled and provide a unique solution to it. In a small business, expertise should be preferred over experience as a talented team can take the company to heights. This is not to say that if a person has a rich experience, you discard their resume but when it comes to deciding between talent and experience, go for talent, especially small business owners, as it can be nourished in a grassroots environment. Also, prefer candidates that have the skills are enthusiastic about taking the new responsibility.
REJECT ONLY AFTER PROFOUND THINKING:
In the competition to find the most talented person to fill the vacancy news of one of many small businesses being extremely picky with their selection won't take much time to damage your reputation. This is why it is suggested to reject candidate only after you have thought it through. Just rejecting candidates who have invested their time and energy to prepare for the position can put your business in a bad light. Be wise, and courteous. Display your business etiquettes and have a proper rejection email template chalked out, thanking candidates for their time and letting them know that if they are eligible for any position in the future, they would be considered.
DON'T:
HIRE THE FIRST CANDIDATE IN A RUSH:
Hiring requires adequate planning, an essential part of which is to not hastily offer the joining letter to the first candidate you interview. Jot down a candidates screening guideline which should include skills set, knowledge, experience and then move ahead with screening. Not proceeding systematically is only going to land you and your small business in jeopardy in the long run.
BELIEVE EVERYTHING THE CANDIDATE SPEAKS OF TEHRI BACKGROUND:
No, we are not skiing you to stalk them physically or virtually without their permission, but a formal background check is now an integral part of the hiring process to avoid any legal issue, which could tarnish the businesses image in the future. Verify the credentials on the CV by calling up the references and previous employers or educational institutions. Confirming these would be sufficient to get the right details about the candidate.
GO FOR SURPLUS HIRING:
A small business is limited by the budget and resources, which is why it is advisable that only hire when required and in the right quantity. Surplus hiring is going to waste your time and energy. A better way would be to put efforts in employee retention strategies. Develop and implement such employee-friendly policies that employee stay. Employee exit has a profound impact on the financial health of every business. A talented person's departure leaves a gap that takes a toll on the business, which has to go through the same hiring and investment to fill.
With a small business, time and money are of essence which is why it should be judiciously invested. No doubt implementing the tips mentioned above will improve your hiring process, but a better option would be to consult a recruitment agency who is at your beck and call for workforce requirement. We at Collar Search provide comprehensive recruitment solutions for the small, medium as well as a large corporation to make sure they find the best fit in their respective industry.
Whether you are a small business operating in healthcare or providing It services, consult recruitment solutions from Collar Search's industry experts helping finance, technology, healthcare industry get the most skilled and knowledgeable candidate as a part of their team.