All Blogs
HR HR Outsourcing Recruitment Process Outsourcing Talent Acquisition
SPEED UP THE HIRING PROCESS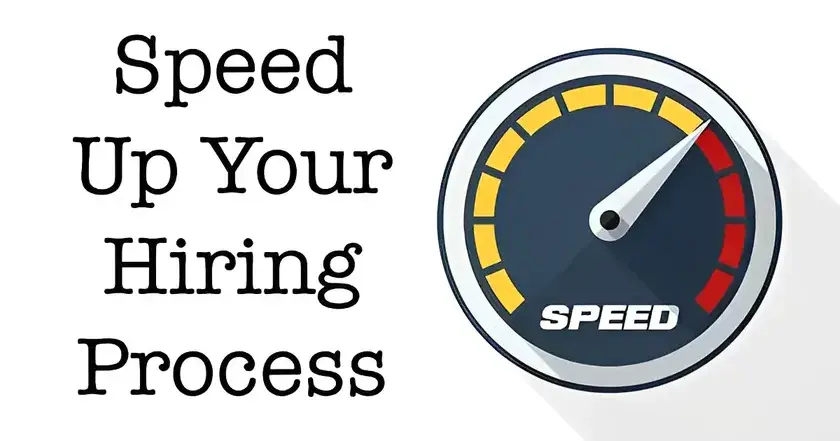 March 08,2019
The job market has become a blink and miss environment. You overlooked the potential of a talented candidate, and they end up securing a good position in your competitor organization.
The main culprit behind this loss is your long drawn hiring process which can be tiring for the candidates. Imagine having to wait for call confirming their selection for more than a week? We know how unemployment is surging high as the graduates from universities pass out every year. This has made the candidates not only desperate to land a job in any organization providing them with decent perks but also impatient.
Some organizations think that a lengthy hiring process is essential to ensure quality hiring and they believe rushing might land them with under-qualified employees who will do more harm than good to their organization's efficiency and production. But this can harm the business's profitability that will lose time and money with every position that is not filled quickly.
In our today's post we are going to discuss some tips that your Hiring team can implement to speed up the process and save time, money and internal resources towards enhancing an organization's productivity:
ELIMINATE BOTTLENECKS:
Look closely into your recruitment process and check for those processes/tasks that are taking up too much time. Once found, either shorten those or if they seem unnecessary, entirely remove them of the recruitment process. Similarly, if you make use of several software programs that are difficult to operate an are taking up a lot of time, it's time you chuck that out as well.
BE SELECTIVE ABOUT JOB BOARDS:
You might have posted the vacancy across global job boards, but still won't get applications as expected. The problem here is not being selective about the job boards. Go for job boards that are partnered with a search engine like Google. This way your vacancy's probability of being seen spikes up. You can either go for general sites or niche-specific sites that would yield higher results.
UTILIZE INTERNAL RESOURCES:
The minute there is an open position, circulate the news of same in your organizations and seek references of candidates. This will provide you with a talent pool, and the recruitment process can be started quickly. Since the existing employees are aware of the working environment and what the job entails, hey will suggest their suitable and best referrals for the position.
ENSURE QUICK COMMUNICATION:
Most of the candidate you lose is because you took time in making an offer. Train your hiring team to pursue quick communication and keep the candidates well informed of their selection status. Think from a business perspective, stay informed about the packages being offered by the competitor organization and make a quick offer to the candidate accordingly.
USE TECHNOLOGY:
Since most of the hiring still involves traditional processes, invest in tools and technologies that can automate them. This investment will beneficial to your hiring an organization's profitability in the long run. Sorting resumes, skill test, reference checking, all can be automated, thus saving you plenty of time and ensuring qualitative hiring.
While implementing these tips will surely help steer the hiring process, but with the continually evolving recruitment landscape, the knacks to qualitative hiring will gradually change. To stay abreast with these tips and implement them can be an extensive process, derailing your employee from their target of meeting production goal and reducing their efficiency, which is why it is suggested that you outsource recruitment services to an agency like Collar Search. Our team of industry experts will make sure that your organization only hires a talented lot. Whether you operate in the healthcare industry or IT services, Collar Search has a dedicated team to help you source, screen, hire and onboard only those with the best skills and knowledge fitting to your budget.
Get in touch with Collar Search recruitment experts today!