All Blogs
News
7 Interesting and Innovative Employee Development Ideas!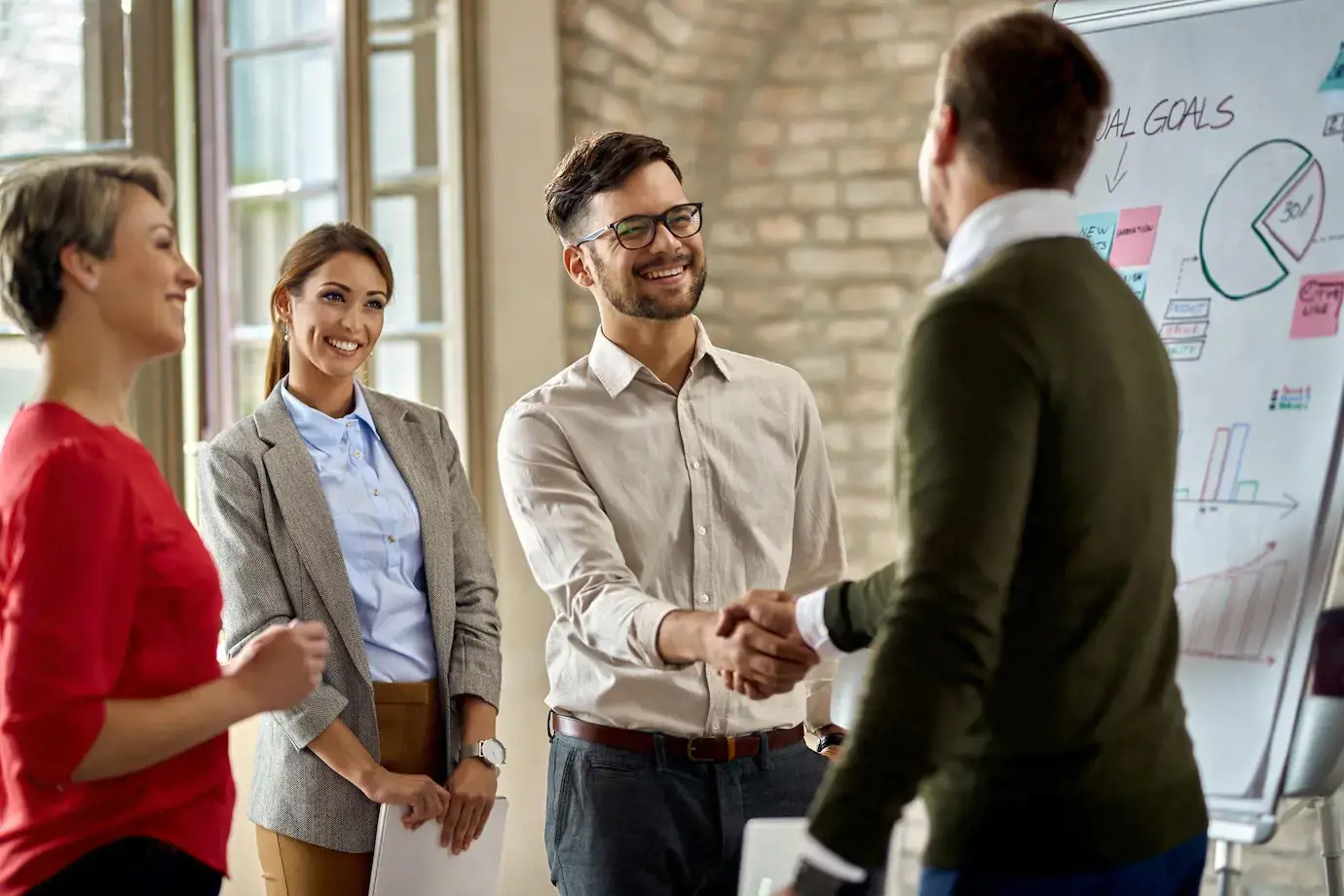 October 27,2022
Employers are searching for methods to gauge and enhance employee satisfaction at work!
Every company's success depends heavily on its ability to develop its employees. It keeps your team up to date with market trends and tactics, preventing your business from losing ground to your direct competition. The greatest and the brightest talent in your sector will be drawn to your company, and they will stay as long as it is practical if you adopt a culture of continual learning and improvement.
For company leaders, choosing the correct learning and development programs to invest in has never been more crucial or difficult. It shouldn't be left to your staff to handle the variety of professional obstacles they experience, making it difficult for them to concentrate at work. One of the most acceptable ways to promote employee engagement is to manage employee development Employees request professional development opportunities from their employers because they enhance their effectiveness at work, advance their careers, and improve their well-being.
The issue with employee education is that people are unaware of all the different ways they can innovate. Fortunately, there are many strategies you may use to make your dull employee training engaging.
Employee development is essential to establish a culture of continual learning within your firm!
Businesses may adopt strategies to engage and encourage workers at work and in associated activities when addressing employee development. Successful employers act this way while being aware of the importance of business expansion for long-term earnings.
Every organization should always put creating a culture of continuous learning at the top of its "to-do" list. To do this, a company must first prioritize employee development. Unfortunately, most small and medium-sized businesses lack the budget to fund the latest and updated advances in employee development. Due to this, many business owners believe that any company-sponsored program for professional growth is not a workable answer.
The good news is that even without an enterprise-level budget, you can use many cost-effective strategies to encourage staff members to acquire new skills and keep them moving forward.
Why are Career Development Programs Important?
Programs for career development can benefit any company because they encourage employees to keep growing and learning while increasing their productivity, which boosts the bottom line. This improves the learning and development culture and prepares employees for their current responsibilities. They learn about their abilities, competencies, and future objectives, which aids them in keeping valued personnel. It helps in planning employee promotions and effective evaluations of their work performance. Investing in your employees' training demonstrates your concern for them and your appreciation for their efforts. A similar strategy is employed by businesses such as manufacturing recruitment services
7 Ideas for Employee Development
The key to creating an amusing employee training session is to concentrate on the professional development opportunities they offer your staff. Although it could take some time, restructuring your current employee training program will be worthwhile. Fortunately for you, part of the work has already been done.
We have compiled the top seven pointers and techniques for enhancing staff training. For your convenience, here are the complete training and development suggestions:
Organize a Book Club




You can give your employees a reason for regular meetings and discussions by allowing them to read books and select articles or topics. This keeps employees out of boredom as it is a fun way to share new ideas, perspectives, and trends in the industry, and they even get an opportunity to learn about critical talents. Since it enables employees from the same or even separate teams to collaborate, this development activity has several advantages. Employees can benefit from one another's perspectives and experiences while learning from one another. Additionally, it assists workers in developing their abilities to formulate and communicate thoughts and instruct others. Even if you are using the services offered by a manufacturing recruitment services agency, you can still opt for such initiatives.
Take Advantage of Industry Offering




Consider joining organizations in your industry or business to access resources that help keep you and your staff updated on current issues. Numerous professional organizations from all sectors of the economy provide a wealth of knowledge in the form of blog posts, research papers, white papers, and much more. You may have to pay the nominal membership fee, but you will have access to much priceless knowledge.
Organize a Mentoring Program




Try pairing well-versed employees in a specific field with those who lack experience and skill in the same area. For example, experienced employees who have worked on various projects can pair up with employees who find it hard to deal with the first few projects of their life. Also, newly hired employees can share their skills, experience, and way of thinking from their previous jobs with employees who have worked in your firm for a long time. Any mentoring relationship should begin with both parties clearly understanding their roles and expectations of one another. Frequent in-person encounters are essential for fostering communication, particularly in virtual workplaces. You can still use this pairing-up process even if you have hired new employees through a manufacturing recruiting agency in India.
Leverage in-house Talent




You won't usually even need to hunt for them because most organizations already have qualified and experienced trainers on staff. You only need to recognize them. You may learn more about your employee's interests, hobbies, and untapped skill sets with some detective work. Employ a forward-thinking strategy and make it a point only to hire job prospects who are capable and eager to aid the company's expansion.
Invite Leaders to Share their Ideas




You can identify subject matter specialists keen to speak with your staff about a topic, either online or in person, by contacting your network of business partners and clients. Your business associates will be flattered by this, and your team will learn something new. In return, your connection can ask you or a representative from your company to address their colleagues or peers. Eventually, this might bring about new business for you or, at the very least, positive word-of-mouth about your company.
Launch a Lunch-and-Learn Program




Consider transforming a presentation given by an external expert into a lunch-and-learn program. This program lets your employees enjoy their favorite lunch while learning, engaging, and listening. Many firms have successfully implemented this program in remote and in-person work environments. The lunch-and-learn program has proved to be the most successful development program after the pandemic, when employees have started to come back onsite for work. Employees also enjoy them because they are easy to follow, short in duration, and utilize their time well.
Don't Forget Traditional Resources




You should never overlook the value of traditional approaches while putting your employees on the path of continuous learning and development. Tools such as journals and trade magazines are reliable sources tapping into new trends and resources. There is no need to buy subscriptions for printed magazines and journals as they are available online nowadays. But in some cases, employees might prefer seamless presentation; therefore, it all comes down to fathoming what your employee wants.
Wrapping Up!
If you want your staff to remain with the business, be content, and support a positive workplace culture, give them opportunities for professional development. By choosing from the ideas shown here, you can ensure that your company has an engaged workforce and that your employees feel valued, improving their general happiness and well-being.
Significant adjustments have been made recently to foster staff progress. Only being succinct, concentrated, employee-centric, nimble, and pertinent matters these days. All of the suggestions made here for staff development adhere to these principles. If your employees know your support, they will be in a better position to reach their professional objectives. Additionally, even if your team is currently working remotely, it is still possible to make career advancement and professional development of personnel top goals for the company. A strong emphasis on professional development can have significant, long-lasting effects on your employees. Additionally, it may position your business to compete even better.
At Collar Search, We Empower the Leaders of Tomorrow!
Processes and tools used for employee development have changed significantly over the years. Fortunately, all the employee development projects outlined in this article follow the current trends, which are about employee-centric, agile, focused, and concise approaches. But only skilled and interested employees can join you on the journey of continuous development, and that's why hiring the right candidate is necessary by using the services offered by a manufacturing recruiting agency in India like Collar Search.
Collar Search is a leader in setting international trends in the offshore staffing and recruitment sector. We have a long history of assisting clients in finding the best people for a given work or project. We can provide a wide selection of professionals who can easily handle any issue because of our strategic location in India. Consequently, you can leverage your business to the next level while saving money, time, and effort.
Are You Looking for Someone Who has What it Takes? Get in Touch with Collar Search!
About Company
"Collar Search is a leader in setting international offshore staffing and recruitment trends. We provide businesses with a wide choice of specialized techniques to improve their staff and handle any business difficulty. Our team is fully capable of assisting you in meeting particular workforce demands quickly and affordably. Our clients view us as the top choice for hiring talent due to our extensive experience and knowledge in the field of talent acquisition on a worldwide scale. We provide cutting-edge sourcing tactics, global operations, and competency models, topped with distinctive approaches to success measurement and business impact optimization."