All Blogs
Recruitment Process Recruitment Process Outsourcing
Critical Elements to Consider in Your RPO model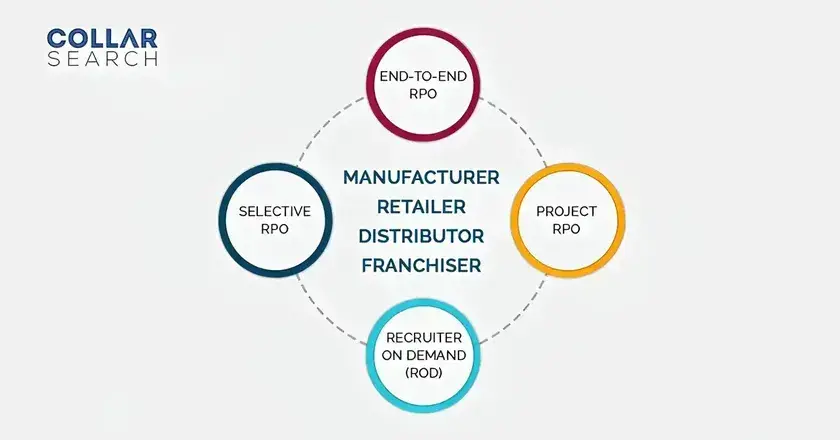 June 19,2019
As the competition for finding the best talent in the market is getting aggressive with every batch of graduates from various universities and the threat of losing talent to a rival, so is the organization inclination towards considering consulting either a component or their entire recruitment function to an RPO.
Per the Report Linker market Report Linker market report on Global Recruitment Process Outsourcing for the forecast period 2019-2027, in 2018 the Global RPO market accounted for a total of USD 4.16 bn, which is expected to escalate at a compound annual growth rate of USD 40.57 bn by 2027.
RPOs that either takes up a section of organization's recruitment operation or their entire recruitment department to offer comprehensive solutions to an organization struggling with land in the most suitable candidate that has the requisite skills and is also a suitable fit for their working culture.
As many portray themselves being the solution facilitator but seldom do they deliver, finding top RPO companies is a tricky task. Find an RPO that understands your working culture; fits well with the values and hiring goals of your business and is definitely offering the following:
Scalability:
An organization will not have recruitment requirement 365 days a year; similarly, they might feel the need to downsize in the future or expand the business which will require more staff. An RPO provider scales up and down as per the situation.
Quality hiring:
They will bring you only the cream of the crop from the talent pool, ensuring the addition of a valuable asset to the organization. This also mitigates the probability of hiring unqualified candidates or the ones that leave within a few weeks of working,
Cost-extensive:
For every day that the vacancy remains unfilled, the company is losing significant money. RPO's scalability and ability to fill up the vacancies quickly, reduce wastage of HR's potential in sourcing candidates, thereby saving time; and in an organization time is money.
Reduced Hiring Time:
RPO's have the readily available talent pool, comparison of eligible candidates which they keep engaged so that whenever the requirement and urgency arises, the position can be quickly filled.
Compliance Regulations:
They will make sure that detailed records are kept and every step in recruitment is fully compliant with the latest labor laws and standards.
But businesses are of different scale and model. There are small scale, and large scale businesses which operate commonly in four types of model:
Manufacturer

Retailer

Distributor

Franchiser
Different business models have different requirements when it comes to hiring candidates. While some don't mind hiring a candidate with an associate's degree for as long as he has demonstrable experience, some emphasize on the degree school credibility. Some might require human resources temporarily while some are looking for a permanent employee. Some businesses, especially small scale ones, would be on a lookout for a multitasker, while conglomerates would want an industry expert.
There are various types of RPO model available in the market that an organization, depending upon their requirement such as hiring volume at present and in the future, seeking other benefits such as enhancing employer brand can opt for:
End-to-end RPO:
One of the most efficient yet time-consuming RPO model, end-to-end RPO should be adopted by organizations looking for permanent recruitment solution and prompt onsite and offsite delivery of resources. Implement it if you have a focus on a single business division.
Project RPO:
An extension of end to end RPO model, but for specific projects. If you need to quickly fill a particular position in a limited time frame or meet an unexpected hiring demand, then you should adopt Project RPO model.
Selective RPO:
If you only need the support and service of an RPO for specific processes and wish to retain other critical internal recruitment components, then you should adopt this RPO model, wherein you will receive prompt and quality services.
Recruiter on demand (ROD)
If your business has a pattern of a sudden spike in hiring or you are planning to extend your business, launch products, you should go for recruiter in-demand model. It involves two or more outsourced recruiter working along the talent acquisition team to immediately add the recruitment capabilities, without the hassle of technology implementation.
With Collar Search, you will get the tailored business model and RPO techniques for various industries like finance, science, technology, IT, and healthcare. You can trust our perceptive and cost-effective recruitment solutions to help you acquire the best available talent in the market that contributes towards steering ahead your business goals.