All Blogs
Recruitment Process
If You Are A Physician, Here Is What You Need To Ask In Your Job Interview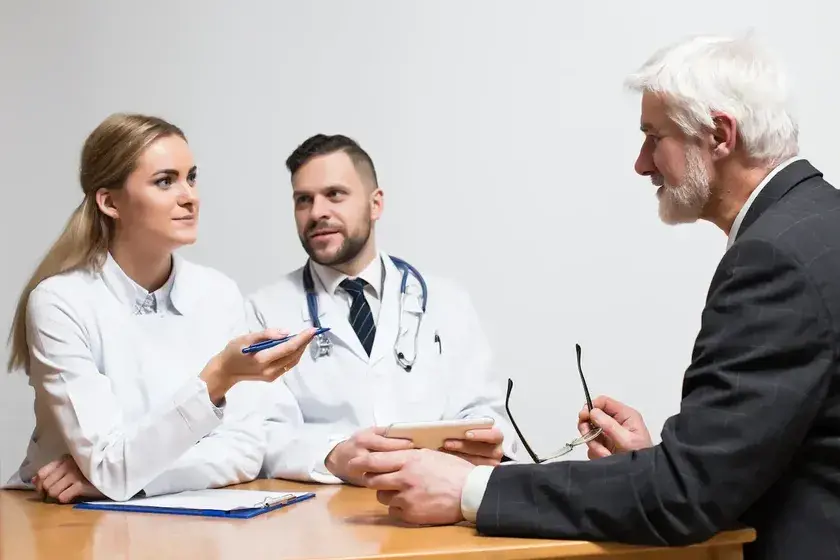 April 06,2021
Our world would not have been a safer place to live if there were no doctors, medical practitioners, and front-line health workers. They strive hard to ensure that they maintain and restore the health of the patients they attend and nurture their living conditions. A physician is a routine term for doctors who engage in surgical and non-surgical operations, health counseling sessions, diagnosing the patient's issue, etc. If you belong to a healthcare firm, it is imperative that your front-line workers and physicians are well-trained and know the how-to of this profession.
A physician is obligated to perform diagnostics on various health-related concerns of a patient and advise him/her to further procedures regarding healthcare. Healthcare recruitment outsourcing services is basically a process that constantly enhances your healthcare employee base, optimizes the service level, and encourages the hiring of qualified doctors, physicians, and health workers.
Your business could outsource healthcare recruitment services via a third-party vendor that helps you manage the overall operations effectively and get talent-acquisition services at less cost. Healthcare recruiters in India are responsible to take over managerial decisions of your organization in terms of hiring health personnel and redesign the employment aspect with increased quality and efficiency solutions.
As a Physician, if you are going to give an interview to a healthcare recruitment organization, you must prepare for a few necessary questions regarding the job role, daily operations, workload, etc. Interviews are a basic chance to let the interviewer know about yourself, your background- both educational and personal, your interest in things, and why you are a perfect fit for the role. Similarly, a physician presents himself/herself before the interviewer and gets to know about the organization to understand the culture of the place. They also get to realize their contribution towards the operational structure, then take a decisive step.
Here is a list of few questions that a physician could ask during an interview –
How is physician wellness supported?– Physician wellness refers to the physician's quality of life. In this profession, it is of utmost importance to have peace of mind, a stable lifestyle, and enriching healthcare practice sessions to improve efficiency. It is crucial to have a balance in personal life and professional life, in order to provide better services to people. Physician wellness includes workout practices that prevent workload burnout, enjoy the routine operational chores with fun activities, and create an employee-centric ambiance to promote a learning culture.
What will a typical day for me look like?– A usual day in the life of a physician involves meeting plenty of patients and diagnosing them to cater to their medical issues. Whatever specialty is chosen by the physician, he/she has to go through numerous learning sessions to be able to get certified for practice. A physician needs to note down the patient's issue, diagnose it with the provided equipment, raise a query for symptoms, prepare medical reports for further tests and refer to required treatment. The same procedure needs to be followed for every patient, which requires utmost patience and zeal towards work.
What are my responsibilities apart from clinical medicine?–In a medical firm, a physician is required to conduct routine checkups of the patients and assess their health conditions to ensure and support a healthy lifestyle. However, apart from clinical medicine, a physician is responsible to examine common issues and conduct research for the community to promote precautionary measures for mass. It usually does not count in the job description but acts as a social responsibility to understand and render humanity-driven services.
Why is the position open?–As an interviewee, you must ask the healthcare organization the need to offer a position in this sector. Determine if the job description matches your profile, would it allow you to continue your practice in the same way or does it require special practice sessions. These are a few questions that help a physician to decide whether he/she should take the job. Probing about the vacancy sets a perception that you are interested in the offered position and want to gain insights.
What is the flow of the typical decision-making process?– A typical decision-making process includes a few steps- realizing the importance to take a decisive step, investigating to get relevant details, measuring alternatives, and taking a final call. Decision-making for a physician requires complex things to be measured with utmost precision and time. As a physician, the objective to take a decision needs to be set by observing patient records, medical ailments, etc.
Healthcare recruitment or staffing services is a crucial aspect and as a physician, you can consult taking their aid to help find a suitable job in medicine. You can take the help of Collar Search as our dedicated team of professionals aid your job hunt by streamlining the niche aspects and vacant job roles. We appreciate healthcare practices and know their value, therefore, our constant effort is towards bettering it by hiring qualified medical practitioners for required job roles. Contact us today to know more!