All Blogs
Recruitment Process Recruitment Process Outsourcing
Walking Through The Stages Of Recruitment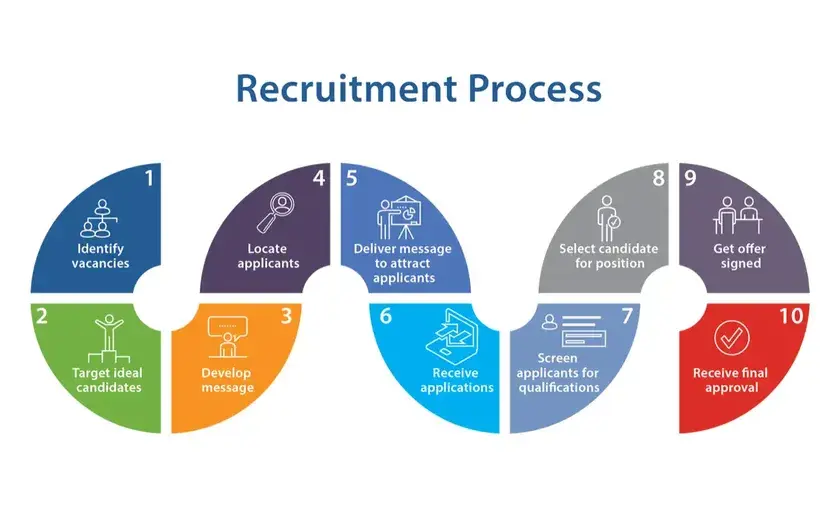 February 16,2021
The business strategies have changed with time and so have the hiring propagandas! The concept of recruitment has evolved with advanced technologies and it now includes more than one approach for hiring a person for an organization. It has inclined towards a much efficient process that facilitates enrolling the right kind of people as per job description and target group's expectations.
Most businesses acquire the services of another firm or enterprise that helps them fulfill their recruitment needs, which is called the Recruitment Outsourcing process. It is a business model that is adopted by businesses when they need to outsource their recruitment practices via a much credible firm whose core operation is providing recruitment services. RPO or Resource Process Outsourcing has been taken as an advantageous step towards a successful and well-organized employee hunt.
Since these RPO enterprises undertake recruitment services for other businesses, they allow them to focus on their core operations yet achieve high-yielding results in the hiring pursuit. These firms are responsible to reduce the minimum time taken in interview sessions, selection, training, and then on-the-job skill development. With these at your disposal, the process to realize and acquire skillful human resources becomes much more efficient and worth investing in.
The role of external hiring committees (RPOs) is to facilitate the process of exploring fresh and qualitative candidatures and refining them as per the business stipulations. In addition to that, RPO firms have years of expertise in core recruitment operations and can effectively filter out proficient applicants for your business, thus saving time and resources.
The Process Of Recruitment
From an enterprise's point of view, the recruitment process needs to be initiated when they are short of human resources, require a qualified workforce, introducing a new field of operations. The following steps better describe its complete procedure –
Performing Job Analysis – This is the first step in the process of recruitment- clarifying the nature and role of the employee for whom the job will be enrolled. The relevant duties and responsibilities define the job description and specifications of the candidate. Job analysis is an essential thing to be done before rolling out the employment demand. It also allows businesses to stay clear on the applications they will be receiving by listing out specific and mandatory details only.

Creating Job Description – A precise and well-organized job description allows companies to set out clear expectations from their pool of applicants. It also enforces the employers/hiring committee to look for specific details in their employees. It usually includes the job title, an overview of the role and responsibilities, invites urgent applications, etc. The importance of a clear and information-rich job description is to target only the proficient applicants and further streamlining the process of settling for the fittest among all.

Creating Candidate Persona – Once you are done with creating the job description, the next step involves developing the character of the prospective applicant- the personality features, minimum experience in years, primary location, and traits considering their online presence over professional platforms. The concept of creating a candidate persona is to engage the pool of applicants and nurture their actions by enticing them to apply for the role.

Advertising the job – The next step is to inform the market by advertising the job details. A business can advertise its job vacancy via online media platforms where a lot of applicants are present and this could become a quality solution. You can also list out on business profiles, professional platforms such as Linkedin, or post on self websites to attract the target group.

Selecting Candidates – After your business receives applications from across the market, it is time to review them and select the relevant applicants for further rounds such as group discussions with the management, personal interview, assessments, etc. Selecting a candidate can be done on various grounds- observing natural instincts on trick questions, body language, and ethical attitude, completion of a process assessment, etc. Refining the relevant applications from the rest enables the recruitment team to move onto the next and final stage.

Finalizing The Candidate – This is the final stage after which the selected candidate is moved to operational training practices. To finalize the most relevant candidate from the list of selected candidates is a tough pursuit. Once the interviews and GDs are done, an employer is required to talk about compensation and other formalities that are necessary for background checks, acceptance offer, etc.
While your business struggles to meet its recruitment needs, we at Collar Search are your one-shop-stop. We are an established firm that deals in rendering RPO services to give you a qualitative edge over your market rivals in terms of hiring and selecting procedures. Our first-class experienced team of professionals has years of experience in yielding the best results and our primary aim will be to help you with your recruitment strategies and perform those practices in less time. We also strive to decrease the costs involved in the recruitment process and reduce the risk of bad/negative hiring. Request a callback for detailed communication and we will be pleased to address your concerns.