All Blogs
Recruitment Process Outsourcing
Why You Should Opt RPO Services for Your Business?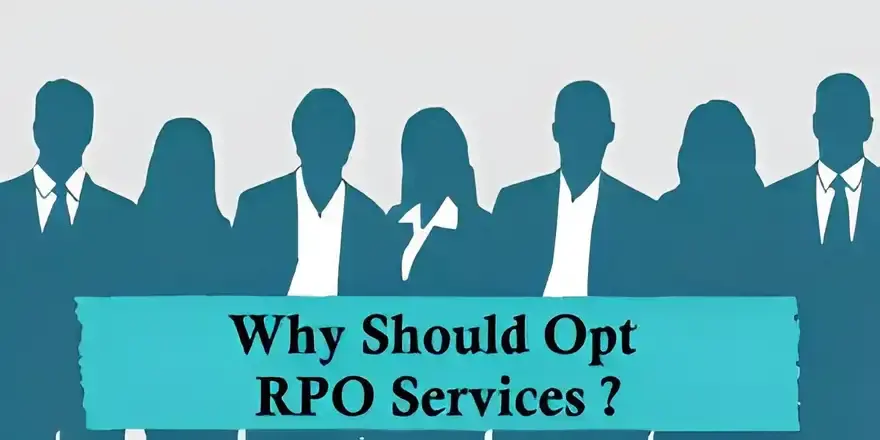 January 07,2020
RPO stands for Recruitment Process Outsourcing which is a kind of BPO (Business process outsourcing) where the employer transfers all the recruitment and hiring process responsibilities to an external servicing firm.
An RPO provides its technology, staff, reporting, and methodologies to fetch the best and deserving candidates to the company. RPOs have their own settled networks for the job seekers and companies to find each other with their interface.
According to a survey, RPO Companies can reduce the time of the hiring process by 40 percent and cost by 50 percent even after recruiting better quality candidates in the deserving firms.
How is RPO different from traditional recruitment?
Generally, the job of hiring employees for the firms is done in one of these three ways:
1. Internal recruiters
2. Staffing agencies
3. Contract recruiters
The ways mentioned above used to be the most popular ways of recruitment in the market. But today, even multimillionaire firms do not step back to believe that RPO services are a viable option for their recruitment. Why?
A traditional recruitment firm believes in just "making a placement." It mostly cares about selling you a seeker for your firm and to earn the commission fee from both – the employers and the employees. It is often observed that recruiting agencies actively promote against using the client's website and the 'employee referrals programs,' which is proven to be the best way to hire people. But the recruiting or staffing agencies selectively outsource those people who are looking for a similar job profile and the company.
On the brighter side, RPO encourages outsourcing from all of the available areas to find the best and deserving talent. They successfully outsource candidates on their own through the aforementioned 'employees' referral programs,' and they generally have a company career site to find the job that is most suited to the seekers' skill set and requirements. RPO makes an effort to recruit such people – who would not just settle for a job, rather admire being a part of such a company.
Therefore, an RPO not only makes the necessary placements that are required by the company but also helps the company build their employer brand.
Reasons to Choose Recruitment Process Outsourcing
There are several benefits of choosing the RPO over any other recruitment methods. Let's examine the benefits even more closely to identify how the RPO can provide more value to the company and job seekers.
Here are the top four reasons to choose Recruitment Process Outsourcing for your business:
1. Increased employee retention
Many employees every year tend to leave their job for several reasons – which proves out to be pretty expensive for the company in the first place. How? The company again has to go through the hiring process, training costs, and other indirect expenses to hire an alternate employee for replacement. Also, the new employee tends to work slower and even inefficiently for the starting period. This leads to several unproductive days, which slows down the workflow and leads to a declining profit or sometimes overall loses.
How to deal with it? If the company opts for the RPO, they usually recruit eligible, proficient, and skilled employees who match up with the standards of your company through their drawn analytics. This reduces their probability of leaving the job frequently, and they continue to work for a longer period increasing the employee retention rate drastically.
2. Improved Proficiency and Efficiency
This is a complimentary fact to the previous point. An RPO provides you with the best candidate that is available in the market seeking a decent job. In other words, they try to find you an individual who is proficient, active, and expert in his niche, best suited to the available job profile in the lowest paycheck possible. With regard to the candidate as well, the RPO tries to find a job that utilizes their skill set efficiently to produce desired results on the job, followed by deserving packages.
3. Accountability and flexibility
Most of the Recruitment Services providers generally offer some or the other form of guarantee for the employee that they are going to source for you. So just in case, it doesn't work out between you and your employee, which is highly improbable even to speak off, the service provider is accountable, and you are still protected. It is their job to find another replacement as soon as possible so that your work doesn't suffer. The RPOs also go a long way just for customer satisfaction; they meet deadlines and a particular pay scale to get you the best employee in the given deadlines. So, in other words, they are flexible as they cannot afford a bad reputation.
4. Saving Time And Money
If there is any position vacant in your company and it continues to remain vacant for a very long time, it is going to cost you money and make your business suffer for that. The productivity of your organization is threatened to suffer. If you hire the wrong person, that is going to cost you even more in many possible ways. The only viable option that is going to help you save your time and money is using professional recruitment process outsourcing services, which are bound to give you effective results within the limited deadlines. Wouldn't it be great? Not to burden remaining staff to take up another person's job or letting the slack build up?
All that being said, the RPO services are a must for your business if you do not wish to spend unnecessary money on employees who are unproductive, inefficient and don't match the standards of your company. In conclusion, RPOs may seem to be a costlier path, but it ensures the recruitment of quality employees that can actually provide value to your company and help your business grow. RPO isn't just an expense – but a big-time investment.
Therefore, don't adjust with random employees, get what you deserve. Opt for the most proficient RPO firm Collar Search and get your company the best staff that it deserves.