All Blogs
Offshore Recruitment Services
Top Talent Trends: Recruitment in 2018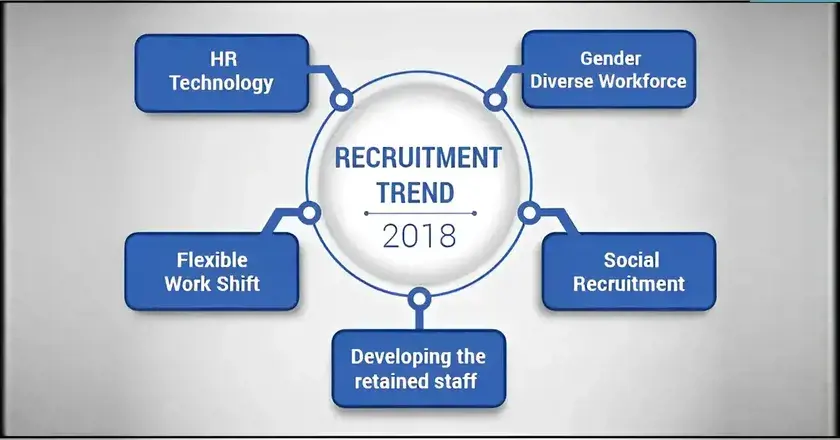 February 07,2018
2018 is expecting some major shifts in recruitment sector trends. It is extremely important for leaders to keep up with such ever-changing current. New technology is contributing to lessening the hassle involved in sourcing a high-quality candidate. But what is noticeable is the involvement of the human factor in the hiring process. At the end of the day, technology is just a medium which cannot replace humans and the personal connections they make. Let us have a look at the prospective game-changers of 2018.
HR Tech continues to rule
Over the previous decade, recruitment has adopted technological way more than ever and this will continue in 2018 as well. Artificial intelligence, futuristic software and various Apps which are available for almost every aspect of life. Our interaction with technology has undergone a radical transformation over the past decade, which is going to affect recruitment trends as well. Artificial Intelligence will significantly reduce HR budget while technology will develop ways for how to make this task more efficient. Such technology give companies a strategic advantage in Global recruitment outsourcing.
Gender Diverse Workforce
According to the LinkedIn 'Global Recruiting Trends' survey, diversity is going to be one of the top four trends that are going to play an important role in the way work industry functions. As per the survey, 81 percent leaders in India say that it impacts their hiring process. It will offer solutions to very specific problems encountered in the effective reach, engagement and hiring of female executives to any position. It implements diversity initiatives in functions and geographies where women are currently under-represented.
Flexible Work Shift
Interest in flexible work hours is significantly increasing in the largest economies of the world. Flexible shifts allow employees to come and leave the office at a flexible time after completing the required hours. Employees need not spend the fixed number of hours at the work, rather their achievement lies in the completion/quality of their work. It is a great benefit to offer the right candidate since it has proven to be a great performance booster. I also allow a candidate to bring work-life integrity instead of the age-old cliche of work-life balance.
Increasing Social Recruitment
Recruitment is a social activity and cashing upon this phenomenon, social media has come forward to increase social recruitment. Millennials are using social platforms such as Facebook, Twitter and LinkedIn to find jobs. They are looking for jobs on their mobile from the comfort of their couch. Searching on the phone has become more common over the years and all the social media recruitment platform such as Naukri.com and LinkedIn are providing Apps for the mobile phone for easier access.
Developing and enabling the retained staff
Recruiting the best candidate is not the biggest challenge that managers face, it's actually retaining and developing the talent pool. The increasing trend of job-hopping makes it difficult for companies to retain worthy employees. To overcome this hurdle they must need to develop a few strategies which benefit employees and makes them stay in the job for a longer period of time. Use of psychology improves interpersonal relationships between the company and the employee. In such a way employees feel like a part of the family rather than just a paid worker.